'The demand for qualified staff remains strong', says iGEN's Enrico Bradamante
Following the recent launch of WhyiGaming, an intuitive platform dedicated to all things iGaming in Malta, Enrico Bradamante outlines the current state of the sector and its recruitment drive.
"Malta is the home of iGaming, and the demand for qualified staff remains strong," says Enrico Bradamante, founder and chairman of the Industry Trade Association iGEN, before diving into how those interested in working in the sector can turn to the new iGaming portal, WhyiGaming, to browse and apply for jobs. 
iGaming contributes 13.3 per cent to Malta's economic activity, and employs 7,500 people directly, the majority being professionals having higher education and/or language skills. There are also an estimated 4,000 jobs supporting the industry indirectly, such as service providers in marketing, accounting and legal, as well as other businesses such as supermarkets, real estate and cleaning.
Mr Bradamante states that there's no other hub in Europe, or the world, that hosts so many iGaming companies in one place; and that, providing certain key dynamics aren't changed, namely Malta's tax environment and the industry's overall ecosystem, the iGaming sector will remain strong and continue to grow locally.
Furthermore, in light of how the industry fared during COVID-19, Mr Bradamante states that iGaming is also a relatively safe environment to work in, given that, depending on the sector, work can be done remotely,  highlighting how flexible and resilient software and hi-tech industries are in the face of a crisis.
"Almost all companies which provide these kinds of services have migrated their operations from working at the office to working almost 100 per cent remotely," he says, adding, "we are very fast and agile, and this is a strength."
Mr Bradamante admits that although certain segments within iGaming have been impacted negatively, namely those dependent on sports betting, he's positive that opportunities remain and that, once the pandemic starts to lessen its grip, this sector will grow even faster.
Given all of the above, it's no surprise that working within this high-tech, fast-paced and ever growing industry is an attractive prospect for locals and expats alike, especially with wages starting from 25-35k per annum for account management, 20-25k for customer support and marketing, and 18K per annum for live casino game presenters, to name a few.
Launched in September 2020, WhyiGaming's purpose is to attract new recruits and talent to Malta's ever-growing online gambling sector. The portal showcases 22 of the leading iGaming companies in Malta, along with over 300 of their open job vacancies, making it a great resource on all things iGaming.
Developed by the members of the iGaming European Network (iGEN), the portal is also used as a communications platform with the general public, where one can hear first-hand accounts on what it's like to work in the industry, and see how the companies are supporting Malta and protecting vulnerable players.
Furthermore, it features iGaming ambassadors who share their personal stories, from those who never had iGaming on their job radar, to those who always had their heart set on it, like Lea, a Search Optimization Specialist who writes, "I am most proud of my development. I started as a Customer Service rep, moved to Payments & Fraud, then onto Customer Service Training and Development, and have now become an SEO specialist. What a journey!"
The portal is user-friendly and easy to navigate. Users may click on a vacancy, check out an overview of the company, the key duties and responsibilities of individual posts, the skills and qualities required, and various benefits of joining individual teams, such as attractive relocation packages and full visa support to help the candidates settle in Malta.
Some career opportunities, other than software developers and IT staff, include those within the entertainment sector, such as graphic artists, 2D/3D animators, and other creative opportunities.
"But also mathematicians and statisticians, to generate the RNG maths models and analyse the huge amount of data the industry generates," Mr Bradamante explains, adding that over the years, legal and compliance have also become increased areas of focus and investment. And finally, positions in HR, customer support and finance and operations are still in high demand.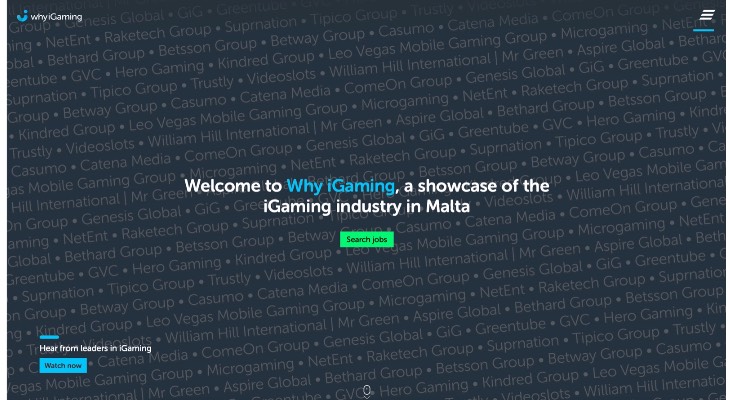 "The demand for qualified staff remains, since there is a significant skills gap in Malta," he says, encouraging those who are interested to browse this website of opportunity. Mr Bradamante in fact foresees the majority of the applicants to be Maltese professionals with zero to 10 years of work experience.  
He adds that certain positions are always in high demand, namely software development, sales and account management, customer support, marketing, finance, legal and compliance. "As a high-tech and progressive industry, we seek to drive diversity in the workplace, and in particular, we have a desire to get even more women into the workforce," he adds. 
Mr Bradamante further explains that the website will continue to evolve to offer updated information and new services, more iGaming news, new employee stories, and also information on CSR (Corporate Social Responsibility) events that they will be sponsoring and/or getting involved in.
"We view WhyiGaming as a platform for the industry to communicate with anyone who is interested in iGaming" Mr Bradamante concludes, adding that the fact that the iGaming industry is still increasing revenues and boosting staff is very positive for Malta, and therefore, work opportunities abound.
Originally posted (including video) on WhosWho.